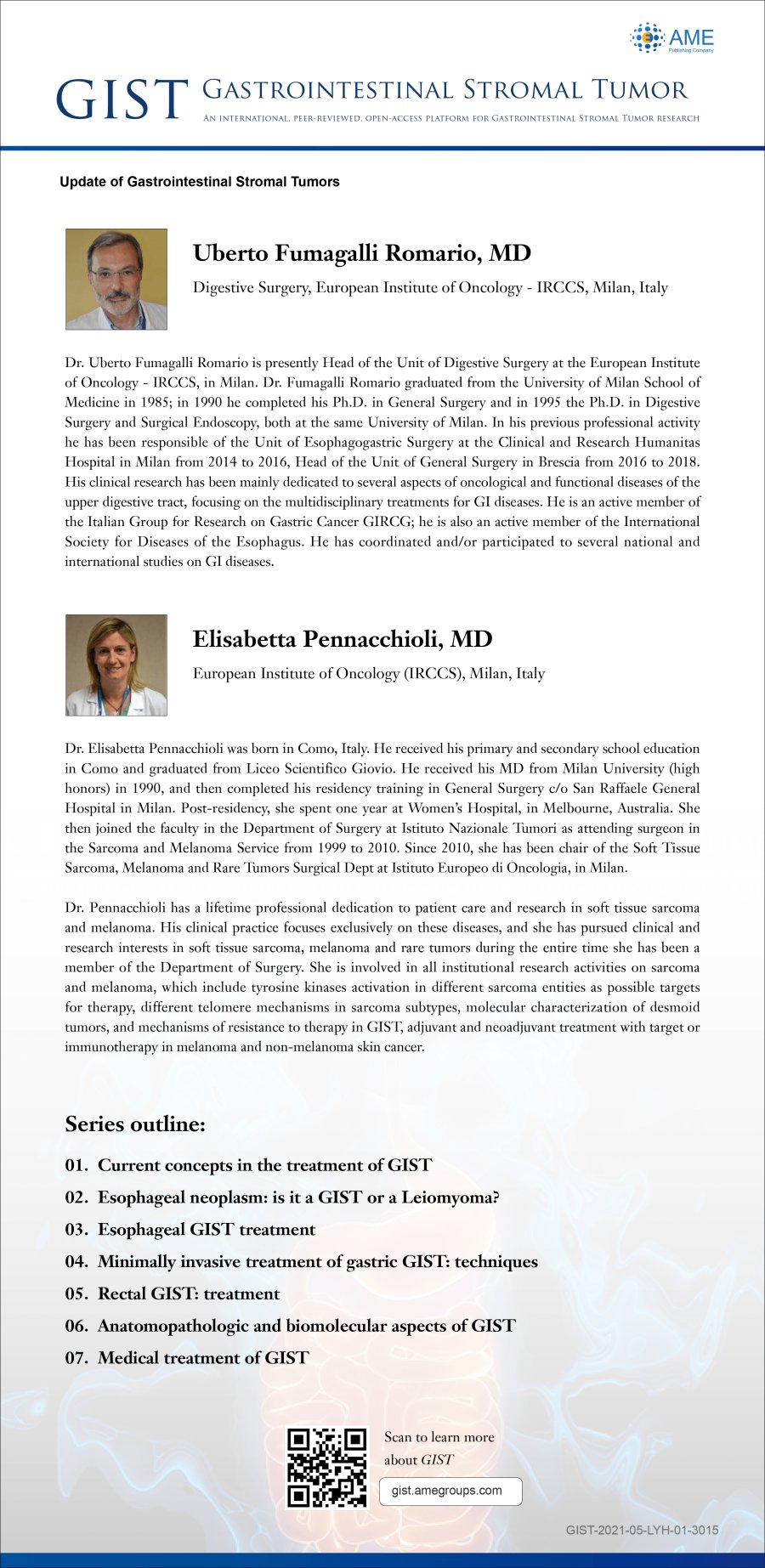 The series on "Update of Gastrointestinal stromal tumors" is edited by Dr. Uberto Fumagalli Romario and Dr. Elisabetta Pennacchioli from European Institute of Oncology (IRCCS), Milan, Italy.
Uberto Fumagalli Romario, MD
Digestive Surgery, European Institute of Oncology - IRCCS, Milan, Italy
Dr. Uberto Fumagalli Romario is presently Head of the Unit of Digestive Surgery at the European Institute of Oncology - IRCCS, in Milan. Dr. Fumagalli Romario graduated from the University of Milan School of Medicine in 1985; in 1990 he completed his Ph.D. in General Surgery and in 1995 the Ph.D. in Digestive Surgery and Surgical Endoscopy, both at the same University of Milan. In his previous professional activity he has been responsible of the Unit of Esophagogastric Surgery at the Clinical and Research Humanitas Hospital in Milan from 2014 to 2016, Head of the Unit of General Surgery in Brescia from 2016 to 2018. His clinical research has been mainly dedicated to several aspects of oncological and functional diseases of the upper digestive tract, focusing on the multidisciplinary treatments for GI diseases. He is an active member of the Italian Group for Research on Gastric Cancer GIRCG; he is also an active member of the International Society for Diseases of the Esophagus. He has coordinated and/or participated to several national and international studies on GI diseases.
Elisabetta Pennacchioli, MD
European Institute of Oncology (IRCCS), Milan, Italy
Dr. Elisabetta Pennacchioli was born in Como, Italy. He received his primary and secondary school education in Como and graduated from Liceo Scientifico Giovio. He received his MD from Milan University (high honors) in 1990, and then completed his residency training in General Surgery c/o San Raffaele General Hospital in Milan. Post-residency, she spent one year at Women's Hospital, in Melbourne, Australia. She then joined the faculty in the Department of Surgery at Istituto Nazionale Tumori as attending surgeon in the Sarcoma and Melanoma Service from 1999 to 2010. Since 2010, she has been chair of the Soft Tissue Sarcoma, Melanoma and Rare Tumors Surgical Dept at Istituto Europeo di Oncologia, in Milan.
Dr. Pennacchioli has a lifetime professional dedication to patient care and research in soft tissue sarcoma and melanoma. His clinical practice focuses exclusively on these diseases, and she has pursued clinical and research interests in soft tissue sarcoma, melanoma and rare tumors during the entire time she has been a member of the Department of Surgery. She is involved in all institutional research activities on sarcoma and melanoma, which include tyrosine kinases activation in different sarcoma entities as possible targets for therapy, different telomere mechanisms in sarcoma subtypes, molecular characterization of desmoid tumors, and mechanisms of resistance to therapy in GIST, adjuvant and neoadjuvant treatment with target or immunotherapy in melanoma and non-melanoma skin cancer.
Series outline:
Current concepts in the treatment of GIST
Esophageal neoplasm: is it a GIST or a Leiomyoma?
Esophageal GIST treatment
Minimally invasive treatment of gastric GIST: techniques
Rectal GIST: treatment
Anatomopathologic and biomolecular aspects of GIST
Medical treatment of GIST
Disclosure:
The series "Update of Gastrointestinal Stromal Tumors" was commissioned by the editorial office, Gastrointestinal Stromal Tumor without any sponsorship or funding. Uberto Fumagalli Romario and Elisabetta Pennacchioli are serving as the unpaid Guest Editors for the series.